Autumn
Why Fall Apart | Time To Let Go!
Authored by Anne C. Willis  
It's here!!  Like clockwork, the end of September begins the shift from the routine and balance of Late Summer to the more introspective and self-aware energies associated with Autumn. Once my skin starts to beg for an extra layer of moisturizer and I wrap myself in my favorite cozy sweater, I can start to feel the pull to go inward. My skin starts to require different care and my body has a strong desire to move away from cooling beverages and food, as it yearns for warm tea and soups. When this happens, I know nature is prompting me to get in the flow of seasonal change. 
Autumn marks the end of the growing season - a turning inward, a falling away of outer-directed energy. During the Autumn months, Nature lets go of all it has created over the past year. Leaves turn color and drop. The old leaves go back to the earth, enriching it to promote the coming of new leaves, a new harvest once we have moved through winter. This goes for skin as well. Dead skin cells begin to decompose providing nourishment for skin's microbiome enriching the surface with added protection.
The energy of this season, more than any other, supports our letting go of waste, both physically and emotionally. The old and stale in our lives is cleansed, leaving us receptive to the pure and new, granting us a vision of who we are when we are completely truthful with ourselves. Autumn moves us to eliminate what we no longer need, reveals again what is most precious in our lives, and hopefully that is self.
In Traditional Chinese Medicine, Autumn is the season of the metal element, which directs putting things in order, elimination, sealing openings, and protecting boundaries, and is seen to belong to the three organs of immunity and detoxification, Lung, Skin, and Large Intestine.
The Lungs, Skin, and Large Intestine, in western medicine is closely associated with immunity due to the role of the microbiome in preventing infections. The lungs, skin and large intestine all share the functions of taking in nourishment via water and oxygen or nutrients and filtering out toxins that don't serve us. During the Autumn season these organs systems go into full activation, and if they are weak going into the season, respiration and elimination often becomes impaired, and the immune system can become weakened leaving us susceptible to pathogenic invasions and autoimmune conditions.
The Large Intestines
In Chinese Medicine the large intestine function of elimination is the main focus. The process of eliminating body waste is crucial to prevent auto-toxicity and a sluggish system that cannot defend itself efficiently. Changes to bowel movement during the autumn months is very common with symptoms of constipation, frequent bowel movements, and/or bloating. In addition to eliminating food waste and toxins, the large intestines are thought to help us move long-standing emotions out of the body. It is the organ that helps us let go. 

 The System of Respiration
The primary function of the lungs includes governing respiration and regulating water passages.  It is in charge of inhalation and exhalation, and, in more general terms, the flux of coming in and going out. The nose is the sensory organ of the Lung. If your Lung is weak, your nose may be easily affected by wind, cold and dampness in autumn, and you may be prone to allergies, sinusitis and rhinitis. If phlegm, which is an indicator of dampness is formed, it is often stored in the Lung and the Lung system, including the nose and sinuses, resulting in nasal congestion, runny nose, nasal polyps, and pressure in the nose and sinuses.
 The Skin
The skin is a part of the Lung organ system, and the pores are controlled by the Lungs. Pores are orifices on the surface of the skin that allow for the coming in and going out of small chemical molecules that assist with nourishing microbial life, detoxification, lubrication, temperature control, and oxygenation. At the end of summer, the pores are considered to be open to allow excess summer heat to leave the body, and as they transition through the autumn months, they slowly begin to close to prevent the loss of moisture, nutrients and heat. At the change of the seasons, the Lung may experience difficulty adapting to the shift. If it has difficulty closing the pores when needed, we may be predisposed to dehydration and dryness in the skin and a prevention of proper detoxification.  This can lead to skin conditions such as acne, obstructed pores, eczema, psoriasis, and barrier disturbances. 
Nutrition Tips for Autumn Health
Because the weather cools off in autumn, we need to eat fewer cooling foods like raw salads and fruits and more warming foods like bone broth, stews, soups, sautéed vegetables, and roasts. Longer cooking times and heartier ingredients are recommended in autumn to nourish the body. To assist the body in the process of elimination it is important to eat cleansing and moistening foods like mushrooms, okra, and squash.  Drinking plenty of water and herbal tea daily will not only assists with large intestine elimination, but also clears the lungs of phlegm and mucus.
Avoid Foods that cause mucus congestion
Avoid wheat, sugars, fruit juices, alcohol, processed foods and refined flours
Avoid cold foods or drinks, dairy, and fried foods 
Eat Foods that Lubricate the Body and Moisten Lungs
Enjoy healthy oils like grass-fed ghee, coconut oil, olive oil, sesame oil.
Enjoy seasonal moistening foods such as pears, pumpkin, squash, apples, seaweed, grapefruit, and lemon.
Avocado or kale for glutathione - The master antioxidant glutathione helps in renewing the cells of the gut
Bone broth for better gut lining - Bone broth helps to heal the integrity of the gut lining by sealing the small spaces that if left unchecked can lead to leaky gut syndrome.
Ginger for better bowel movement - Ginger is an excellent prokinetic (promotes movement) that helps to improve the rate of motility (movement) of the stool, regulating transit time. 
Turmeric and pepper to reduce inflammation. Turmeric is a strong anti-inflammatory compound, and reduces mucus in the colon and stool. Pepper helps to increase absorption of active compound curcumin from the turmeric. It also helps to reduce gas and bloating, and facilitates good bowel movements.
AUTUMN SKIN CARE
Skin goes through the most profound transition of any of the other 4 seasons.  The downward energy of autumn pulls toward storage as this same momentum pushes the release of waste and dead skin cell remnants. That means the skin may appear flakey or dry.
Pores will start to contract as I discussed earlier allowing for the release of nourishment, detoxification, lubrication, all while attempting to regulate temperature. You will want to avoid topicals that constrict pores or minimize them such as astringents, gel cleansers, retinol, chemical peels, microneedling, just to name a few.  Once the contractual pull of autumn energy if completed the pores will naturally begin to close up and their protective boundaries need to be intact.
Due to detoxification, you may notice such skin symptoms such as blemishes, blocked pores and flareup with autoimmune conditions such as Psoriasis, eczema, and rosacea.  Remember autoimmune means self-attacking self, so while you are letting go of what no longer serves you and finding peace with self, skin will reflect that process.
PRODUCTS TO CLEANSE - PURIFIY - NOURISH
De La Terre Skincare takes seasonal changes as opportunities to better our skin's health and prevent minor upsets that leave skin weak.  A few simple changes to your skin care application will make a late summer transition towards skin health easy without changing your entire skin care routine.
Here are De La Terre Skincare's four product recommendation that will allow your skin and body to keep the peace during October and November.
Active Support Skin Lotion is most needed during the autumn season as the formula's inclusion of 14 varieties of mushrooms will assist in the natural breakdown of decomposed organic materials (dead skin cells) thus creating the conversion of nutrients, protection from pathogens and repair to damaged skin cells. Apply Active Support Skin Lotion morning and night either directly after Herb Rich Mist or after Herb Rich Serum.
Herb Rich Clay's is in high demand during Autumn as each unique blend clears what is no longer useful to the skin. This ultimate Skin Booster not only digests the remnants of dead skin cells, but also provides symptomatic relief from seasonal change. If ever there was a season to start using this product, Autumn is it!  Apply Herb Rich Clay 1-2 times a week as long as your skin barrier has not been compromised. Be sure and apply it to the chest/décolleté, and if you really want skin to breath with health apply it to the legs and arms.
Purifies | Herb Rich Tea as a beverage offers a mild sweet earthy flavor.   The unique blend of herbs naturally promotes cleansing the body, while purifying the respiratory system.  We recommend drinking two to three cups a day. Be sure to take deep breaths and inhale the aroma of the tea so your respiratory system receives the care it needs.  Caffeine Free and oh so delicious.
Purifies | Herb Rich Mist is the ultimate in autumn respiratory health.
Using Purifies Mist for inhalation therapy clears loose mucus and phlegm from the nasal & bronchial airways, while reducing sneezing and itchy eyes.
As a facial mist, Purifies Mist helps seal pore openings, and protecting skin's boundaries. The fine mist is absorbed by the skin and immediately begins to reduces itchiness or allergic reactions due to detoxification.
Nature is full of transitions.  Autumn invites you to reinforce your body and skin vitality through the best paired foods, mindful self-care, and De La Terre Skincare products.   By taking the time to acknowledge the shifts that occur inside and outside the body during each seasonal change, you can become closer to nature's lessons for obtaining a healthy lifestyle.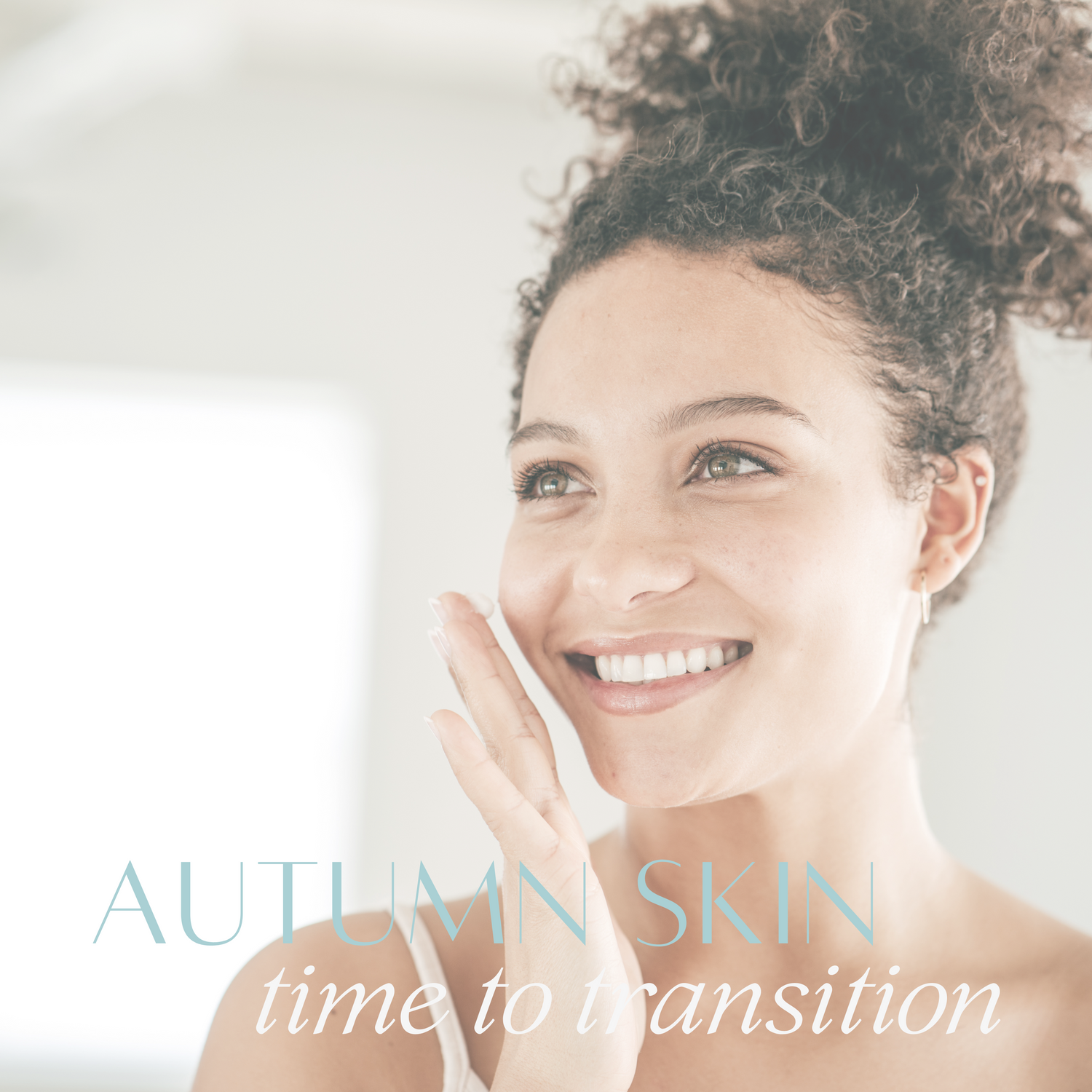 Quick view

Herb Rich Mist - Purifies

Regular price

$38.00

$65.00

Regular price

Sale price

$38.00

$65.00
Quick view

Herb Rich Tea - Purifies

Regular price

$28.00

$55.00

Regular price

Sale price

$28.00

$55.00
Quick view

Active Support | Skin Lotion

Regular price

Sale price

$50.00
Quick view

Herb Rich Clay/Purifies Skin

Regular price

Sale price

$48.00
BUY ALL FOUR
AUTUMN PRODUCTS